Celebrity boxing has been around for a while now and its popularity is only growing. People's natural desire to watch fights may explain why celebrity boxing has grown in popularity. Even several retired NBA players have traded the court for the ring. Some use it as a new method to get back into shape, while others might do it just for the sake of trying combat sports.
Lamar Odom will be the most recent of these retired NBA stars to enter the ring. The former Los Angeles Lakers star will take on Izzy Drake, or "Fake Drake." Odom has already competed in two exhibition fights and has a perfect record.
ADVERTISING
The article continues below this ad
He knocked out Aaron Carter in the second round in his very first fight. A few months later, he defeated Ojani Noa in a decision.
"Fake Drake" intended to fight the real Drake in a million dollar boxing match; however, Odom stepped in to fight him instead.
"I hear this news that this fake lookalike wants to fight my man Drake," said Odom. "But my man doesn't really get his hands dirty, so what I'm going to do, I'm going to step in and take this fight."
While the towering 6'10" Odom is ready to let go of those hands, not everyone has taken well to these retired NBA players donning the boxing gloves.
Anthony 'Spice up' Adams is upset that Lamar Odom got in the ring
Lamar Odom has had a few setbacks in the past but he denied letting them affect him. In fact, the former Laker is up for a new challenge. This new challenge now comes in the form of a boxing match against "Fake Drake".
While locked up, NFL veteran Anthony Adams isn't happy these retired NBA players are going the boxing route. Spice up expressed his dissatisfaction on a recent edition of Shaquille O'Neal's podcast "The Big Podcast with Shaq."
DIVE DEEPER
"Have you all seen, your boy (from Shaq) Lamar Odom talking about having a celebrity fight with the fake Drake? Have you seen the Fake Drake? said Adams. "The Fake Drake said he wanted a million dollars to fight the real Drake and so Lamar stepped in and said 'Na na na Drake, I'm not going to let you out like that…I'm going to take this fight . I will fight the False Drake.'"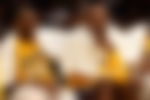 "What's going on with retired basketball players? he asked.
Nischelle Turner then blamed Spice, saying it was all her fault. "It's your fault. It's all your fault. Because you co-signed all those early boxing matches. You co-signed this mess. And then it spread like wildfire. said Turner.
ADVERTISING
The article continues below this ad
WATCH THIS STORY: Top 5 Stephen Curry Moments From This Week's Massive ACC Championship
"Oh yes, so-and-so can fight, Chad Johnson can fight, that person…I want to see that," and what I said, retired athletes…SYAD! Shaquille, what does that mean? Turner asked. "Sit down," Chaq replied O'Neal then joked that he should go with the Fake Drake for this fight.
Deron Williams after beating Frank Gore: "I'm going to sit my old asshole somewhere and let these professionals do their job. Honestly, I probably looked terrible there… Got one and I'm done. pic.twitter.com/QLdoIXeJQP

— Ballislife.com (@Ballislife) December 19, 2021
ADVERTISING
The article continues below this ad
To be fair, the NBA hasn't dodged this celebrity boxing fever. Former NBA players such as Deron Williams and Nate Robinson have all stepped into the ring. Nick Young is also set to face rapper Blueface in a boxing match match. Lamar Odom is now the latest to embrace this growing trend.